Adult Diaper Windel Medium M-10pc
Product Highlights:
Easy Refasten able Tapes
Dual Core Padding
Leak Guard
Wetness Indicator
Disposable Diaper
Unisex Product
Up to 8 Hours of Protection
Latex Free Product
Super-Absorbent Technology
Security policy
Delivery policy
Return policy
Windel Adult Diapers 
Windle Adult Diapers are for people who face problems with incontinence. Windel diapers are manufactured in India and adhere to the highest quality standards.
Super Absorbent Technology turns fluid into gel which gives the patient dry and pleasurable comfort.
Two pairs of Refasten able Tape Tabs-Allows multiple adjustments for choosing the best fit for you.
Multistrand Leg Elastic Technology is for a snug fit that doesn't pinch the skin and causes no irritation. It also Prevents leakage around the crotch area.
The Wetness Indicator helps the patient to check if the diaper needs to be changed or not.
Adult diapers can be useful for:
Temporary mobility impairments in individuals
Mobility issues in senior citizens
Accident victims
Permanently disabled persons
Dementia sufferers
Conditions such as diarrhea
Patients who have had surgery
Prostate cancer patients and those with related disorders
Diabetic patients
Patients in Urology
People having difficulty controlling their bladder
Modern adult pull-up diapers offer many benefits, including:
They can help with incontinence issues
They absorb the fluid effectively
They feel soft on the skin, and are made of breathable fabric
They are easy to use, wear and remove.
One diaper can last between five and twelve hours.
Buy Adult Diaper, Health care services and products Online on Maxtechhealth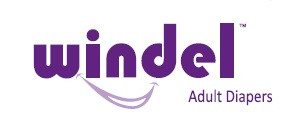 Data sheet
Country of Origin

India

Quantity

10 Pieces

Type

Sticking

Size

Medium

Unisex

Yes

Washable

No

Effective Duration

Up to 8 hours

Wetness Indicator

Yes
Super Absorbent - Superior absorbency turns fluid into gel.
Two pairs of refastenable Tape Tabs - Allows multiple adjustments and refastening on the frontal tape.
Multistrand Leg Elastic - For comfortable snug fit without pinching on skin. Prevents leakage in the crotch area.
Wetness Indicator : Its makes easy for User to replace the diaper with wetness indicator.
Upto 8 Hrs of Protection : Allows maximum comfort.
Windel Adult Diaper Medium-10pc
| | |
| --- | --- |
| Waist Size | : 28" - 44" & 71.12 - 111.76cms |
| Diaper Length | : (+/-10mm) 810mm |
| Diaper width | : (+/-10mm) 650mm |
| Size | Quantity | Inches |
| --- | --- | --- |
| Diaper Windel M | 10 Pieces | 28-44 |
| Diaper Windel L | 10 Pieces | 38-60 |
| Diaper Windel XL | 10 Pieces | 48-68 |
related products
You Save: ₹110(31%)
Regular price
₹360.00
Price
₹250.00